The United States Environmental Protection Agency this week released a new guide on innovative approaches and methodologies for assessing the vulnerability of certain populations to the health impacts associated with extreme heat in the U.S.
Intended as a guide for experts and practitioners in the field, the report provides comprehensive and up-to-date guidance on the best methodologies and data requirements for developing vulnerability maps that characterize and locate vulnerable populations. It draws on example applications of Geographic Information Systems to integrate climate and meteorological data, along with qualitative and quantitative information regarding socio-economic characteristics of certain populations.
For example, the report outlines specific methodologies for the innovative use of census and survey data to assess heat vulnerability based on 29 socio-economic variables including poverty, lack of vehicle access, and frequency of over-crowded housing. The method uses analyses of these socio-economic factors to create vulnerability indices which can then be used to provide predictive capacities regarding a specific geography's vulnerability to heat.
To produce the report researchers consulted governmental and academic scientists through one-on-one interviews regarding the methodology and data requirements for assessing vulnerability of certain populations to the health impacts associated with extreme heat.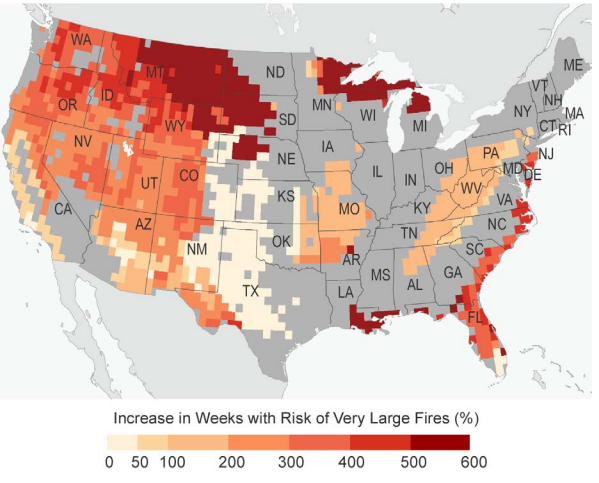 Above: Projected increases in the risk of very large wildfires by mid-century. Source: Adapted from Barbero et al. (2015).
The EPA says that "Maps reveal complex spatial and temporal patterns that would be difficult to interpret through text alone, and allow local stakeholders to visualize areas of vulnerability within the context of places they know. Maps can also be influential in decisions to target resources to vulnerable populations to develop adaptation responses that promote resilience.
It is hoped that the the methods will be used by public health protection and disaster response agencies to better identify, plan, and respond to weather events which result in periods of high risk during extreme heat.
The report concluded that, where possible, vulnerability assessments should focus on populations and locations with multiple susceptibilities e.g., the very young or very old, those who are socially isolated or live in poverty, some racial groups and Indigenous peoples, those with limited English language proficiency, those with workplace exposures, or those with preexisting physical or mental health conditions that put them at greater risk.
Citations/Useful Links
U.S. EPA. Mapping the Vulnerability of Human Health to Extreme Heat in the United States (Final Report). U.S. Environmental Protection Agency, Washington, DC, EPA/600/R-18/212F, 2018.
Barbero, R., Abatzoglou, J. T., Kolden, C. A., Hegewisch, K. C., Larkin, N. K., & Podschwit, H. (2014). Multi-scalar influence of weather and climate on very large-fires in the Eastern United States. International Journal of Climatology, 35(8), 2180-2186. doi:10.1002/joc.4090