Q&A: GHHIN's new Extreme Heat Programme Officer position explained
Published: February 6, 2023
The World Meteorological Organization (WMO) is seeking an Extreme Heat Programme Officer to support the Global Heat Health Information Network Technical Support Unit, from the WMO headquarters in Geneva Switzerland.  
We spoke with Joy Shumake-Guillemot, Lead of the WMO – WHO Joint Office for Climate and Health, on the role and objectives of this new position: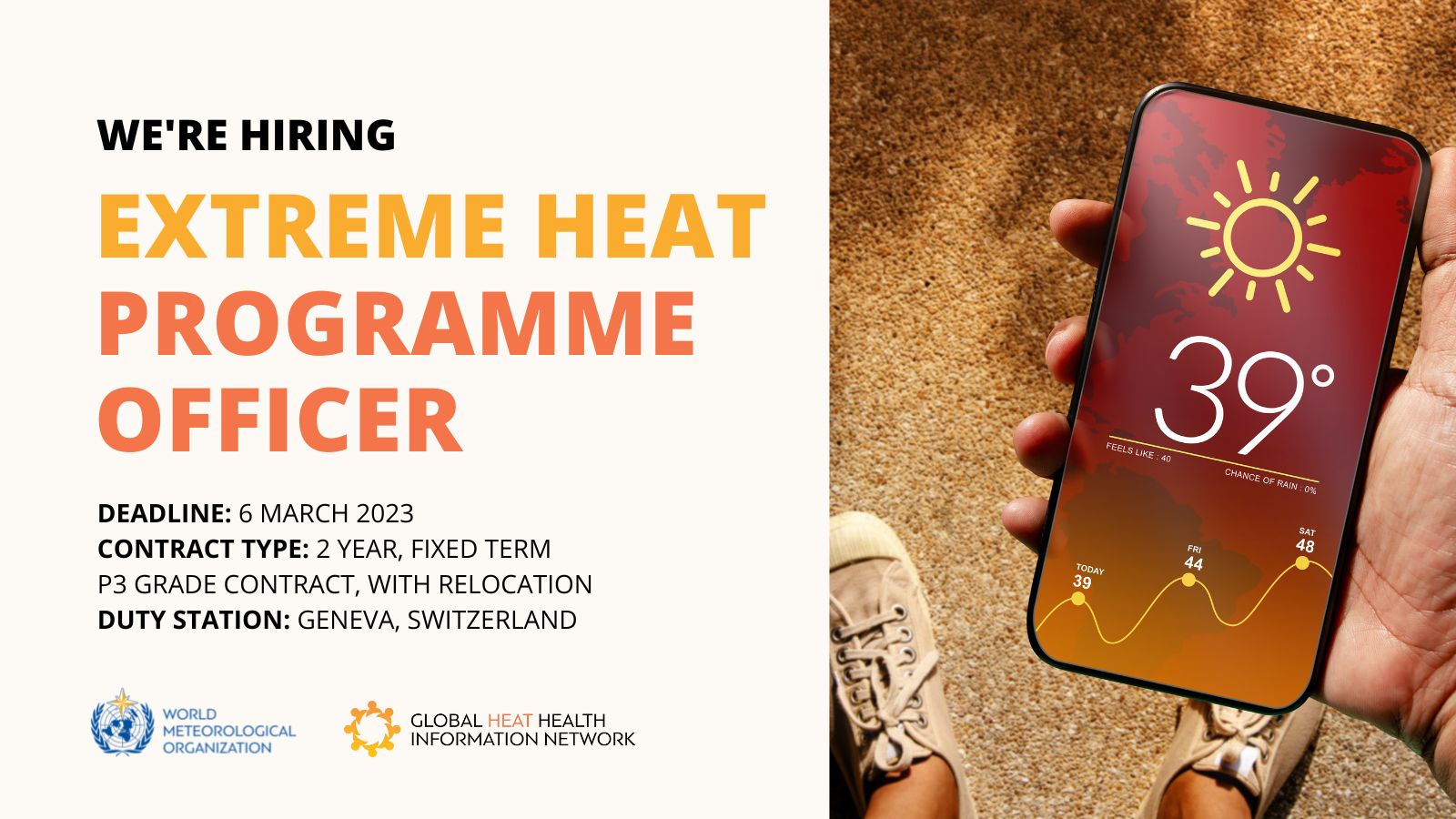 What is GHHIN, and how is it pronounced? 
Pronounced 'gin'. the Global Heat Health Information Network (GHHIN) is an initiative of the World Health Organization (WHO), World Meteorological Organization (WMO) and the US National Oceanic Atmospheric Agency (NOAA).  The Network is an independent, voluntary, and member-driven forum of scientists, practitioners, and policy makers focused on improving capacity to protect populations from the avoidable health risks of extreme heat in our changing climate. You can learn more about the Network on our website.
  
What is the role of the new Extreme Heat Programme Officer within GHHIN?
The GHHIN is a knowledge brokering mechanism bringing together a wide range of partners working on heat and health. The person in this new position will be responsible for coordinating the activities and communication of the Network, through management of GHHIN's Technical Support Unit (TSU). The successful applicant will be responsible for the coordination, organization, and monitoring of GHHIN's work progress and new extrabudgetary projects. They will also be expected to lead the expansion of regional partnerships, oversee development of training and communications materials, and convene quarterly technical seminars.  
The new Programme Officer will be supported by and expected to coordinate with the Head of the WMO – WHO Joint Office for Climate and Health, WMO's Extreme Heat Advisor, GHHIN's Communications Manager, Regional Technical Support Advisor, co-sponsoring staff, the Management Committee, and project specific consultants and contractors. 
Where is this role located? 
The GHHIN Technical Support Unit is located in the division of Applied Climate Services of the World Meteorological Organization in Geneva, Switzerland. This position is Geneva based, and a relocation package is provided to resettle in Switzerland. Remote work is not possible for this role. 
Why is experience in science communication, knowledge brokering and stakeholder engagement a required skillset?  
The Network is a knowledge brokering community of practice with a strong grounding in evidence-based public health practice and science communication. We have strong partnerships with multidisciplinary research community and governments, so understanding of epidemiology, evidence-based decision-making and climate risk communications are fundamental to the activities of the Network. We are looking for candidates with a strong track record of working across disciplines, partners, and preferably also geographic regions – who will be able to easily navigate the network partners and activities.
Is a degree in meteorology, environmental science, or public health alone sufficient? 
Addressing the health risks of extreme heat risk involves multidisciplinary thinking, skillsets, engagement and partnerships. It is advantageous to have a combination of a multi-disciplinary training and work experience to be able to navigate the multidisciplinary nature of the work. The activities of the Network are heavily anchored in health policy, health interventions and interdisciplinary research. Successful candidates will have qualifications or demonstrated experience in the field of public health and/or health emergency/disaster risk management. Familiarity and experience in epidemiology and the development and implementation of early warning systems for preparedness will be assets. 
 
Will travel be involved? 
Yes. Periodic travel will be required to provide technical support to regional and project activities, representing the network at professional conferences, and annual management committee meetings.
 
Is public speaking involved? 
Yes. The Programme Officer will convene and co-chair regular online and in-person meetings, make presentations on behalf of the Network, and engage with the media, serving as a key spokesperson for the Network. Successful candidates will have a track record and ability to confidently speak in public.
 
What level of project/programme management is involved in the role?
The Network is scaling up partnerships and activities and the new Programme Officer will be responsible for supporting project and programme management across a range of areas, from project development, to implementation and reporting. Experience managing projects and programmes will be considered an essential asset for applicants. 
Do I need to have knowledge of website management?
No. the Programme Officer will work in coordination with the Communications Manager to ensure that www.ghhin.org is updated regularly with new quality-controlled content. The Programme Officer will be expected to stay on top of and share summaries of new events, projects, research findings from across the network, help draft and shape communications materials including blogs, our monthly digest, social media campaigns, new website development, and other multi-media materials.  
Why is work experience in a local or national government, such as a National Health System or National Meteorological Service an advantage? 
As a UN Initiative, the primary constituents of the Network are national government partners. Understanding the constraints and opportunities of national and local governments can provide useful insights which facilitate engagement and implementation. However, the Network also engages with a broad range of other partners, including academic, NGO, philanthropic, and private sector partners.  
Do I need to speak multiple languages?
The working language of the Network is English. Speaking additional languages is an advantage which can assist building partnerships and working in an international environment. French is the official language of the Canton of Geneva, Switzerland.  
What is the salary and benefits?
This position is a fixed-term 2-year Professional grade 3 position. Renewal is possible based on sufficient extrabudgetary resources and successful performance reviews.  
For professional level positions, the UN provide standard, tax-exempt salaries. This position will be paid approximately 109,836 USD per annum. This is comprised of an annual net base salary on initial appointment (US$ 62692), plus a variable annual post adjustment for Geneva duty station of US$ 47144 (in addition to the net base salary).  See additional information on applicable benefits of UN employment here, such as health insurance, pension scheme, and resettlement grants.  
How to Apply? 
Apply by midnight CET March 6th, 2023 
In order to be considered a candidate for any post in WMO, applicants must apply through the e-recruitment system. This can be done by completing a profile here.  Applications are screened based on the information in your e-recruitment profile, which must be shared with WMO if you have previously registered with another organization. Before applying to a WMO post, we strongly encourage you to review your profile to ensure completeness. Applications must be received before midnight Geneva time on the closing date of the vacancy notice.