Confronting the risks of rising temperatures calls for action from all of society.
Rising temperatures impact people and economies – exacerbating social inequalities, and causing illness and death. They impact the environment – contributing to more intense wildfires, worse air quality, and water scarcity.
High temperatures also impact critical infrastructure and utilities, causing additional challenges for those living in urban heat islands or substandard housing.
Action on climate change, as well as comprehensive preparedness and risk management can save lives now and in the future.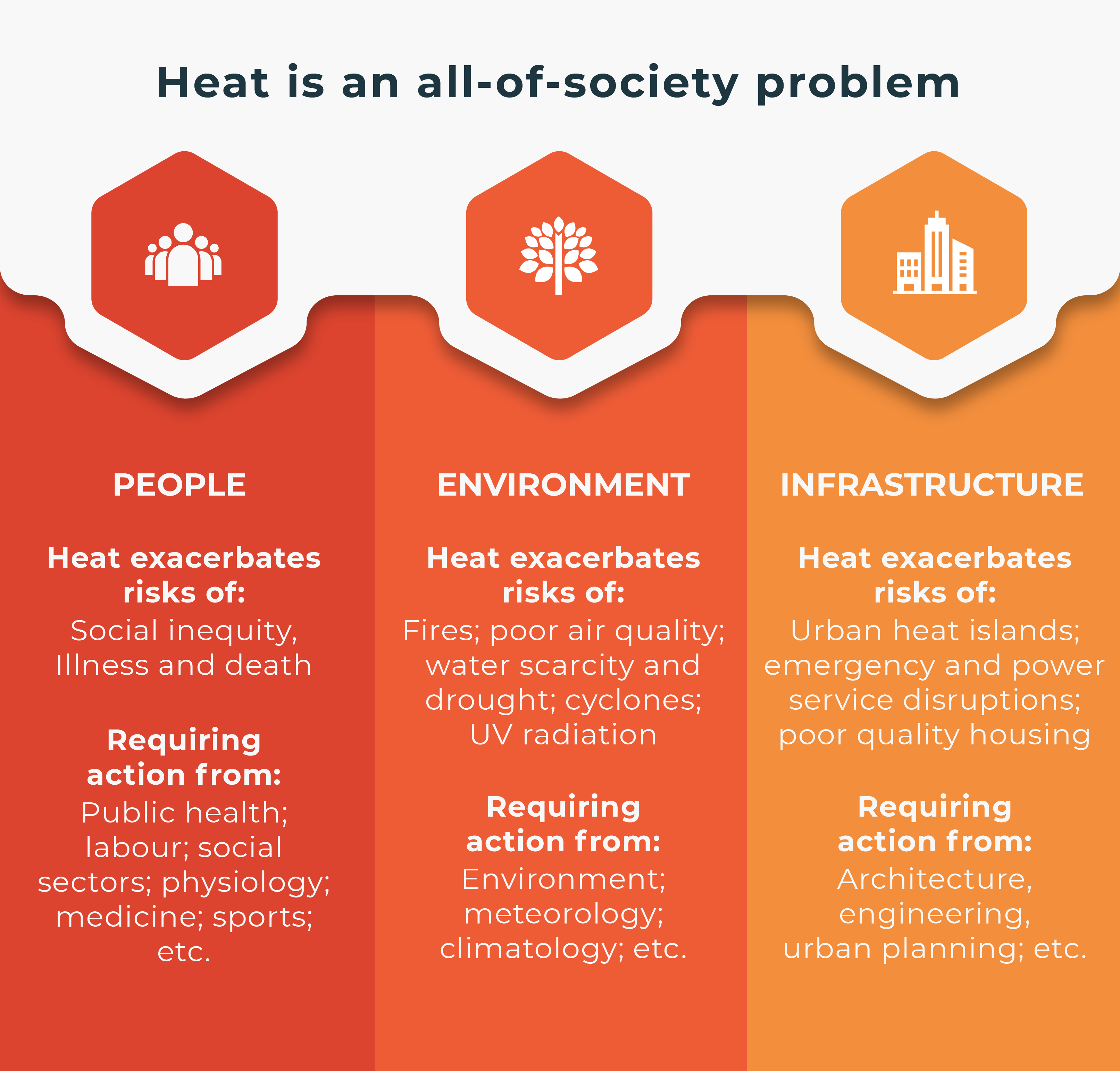 Climate Action
Mitigating climate change by reducing greenhouse gas emissions is imperative and urgent. Heat-related problems are destined to increase for decades to come, due to greenhouse gases already in the atmosphere that are rapidly warming the earth's climate. However, the degree and rate of future warming and impacts beyond 2100 will depend on the success of climate change mitigation efforts. Meeting the targets of the UNFCCC Paris Agreement is critical for us all.
Preparedness
Preparedness should happen long before an emergency.  Actors and information should be coordinated before and during the heat season, complemented by early warning – early action systems during a heat emergency.
Location and context-specific risk management
Localized understanding of heat risks, risk perceptions, community capacities, and available cooling options are critical to effective intervention design. Epidemiological studies, social science, risk assessment and urban heat mapping can provide insights that address the differentiated needs of vulnerable groups into risk planning and effective policies and responses.
Integrated Heat Information Systems and Partnerships
The multi-sectoral impacts of heat require a multi-sectoral response.  Individuals and experts from public health, labour, social sectors, physiology, medicine, sports, environment, meteorology, climatology, architecture, engineering, urban planning all have an important role to play in managing and adapting to the risks of extreme heat.
Integrated Heat Partnerships and Information Systems are critical mechanisms to bring people and knowledge together to help better prepare for, and respond to, extreme heat.
Collaborative efforts can more effectively identify and harmonize existing capabilities, and define and deliver actionable information to reduce health-related risk long before, during, and leading up to heatwaves.
Integrated Heat Health Systems in Action
National Integrated Heat Health Information System (USA)
The NIHHIS is a multi-agency integrated system that defines demand for climate services that enhance resilience, develops science-based products and services, and improves capacity, communication, and understanding in order to reduce morbidity and mortality from extreme heat.
Hong Kong Heat Partnership
This collaborative multidisciplinary partnership of academic, government, and civil society partners works to address heat across time scales and key sectors in Hong Kong.

Heat Action Plans and Warning Systems
Heat risk management requires organization and coordination of many actors. Heat Action Plans are an important mechanism to strategically coordinate action.
Heat Action Plans at the city, state/provincial, or federal level bring actors together to better understand and manage heat risk. Heat Action Plans and protocols can also apply to schools, hospitals, sporting and mass gathering events.
Heat Health Warning Systems are an integral part of Heat Health Action Plans, and are provided by National Meteorological Services. They provide heat advisories, warnings, and watches to alert decision-makers and the public so that timely action can be taken.
Heat Action Plan Elements
Inter-sectoral coordination
Heat health early warning and alert systems
Communications and public outreach
Reduction in indoor heat exposure
Special care for vulnerable people
Preparedness of the health and social care systems
Long-term urban planning
Real-time surveillance
Evaluation
Example Heat Action Plans
Example Heat Planning Guidance​
Manage and Adapt to Extreme Heat
Heat Risk Management Framework

Short term

Long term

Pre-response

Heat Action Plans
Early warning systems
Communicating risks
Building capacity for better system response and preparedness
Clarity of role and coordination among agencies
Pooling resources

Climate risk reduction in alignment with heat reduction
Policy development
Regulation
Setting heat standards and implementation for urban planning, infrastructure, industries, services like transport, building design, road, water resource management, etc.

Response

Activate a heat alert and the local response
Public awareness and community outreach
Prevention of heat related illness
Identification of heat illness and its treatment as per clinical guidance

Recordings of morbidity and mortality
Emergency response readiness
Community engagement

Post-response

Care and treatment for saving lives
Monitoring and health surveillance
Risk communication and alerts
Promoting coordination for integrated response

Analysis of trends
Risk profiling of cities and region
Strengthening support system for better response
A broad range of protective actions can be taken by many different actors to prevent heat illness and deaths.
These actions can be taken at different times, levels, and under certain conditions – for example long-term policy-level interventions for subtropical cities, school or sports-specific heat plans, or individual actions that can be taken at home during a heatwave.
Coming Soon: Stay tuned for our Heat Action Platform – a catalogue of evidence-based heat health interventions to support local planning and action.