A Game Plan for Heat Stress: Policy Recommendations for High School Sports
Organization: Nicholas Institute for Energy, Environment & Sustainability, Duke University
Year: 2023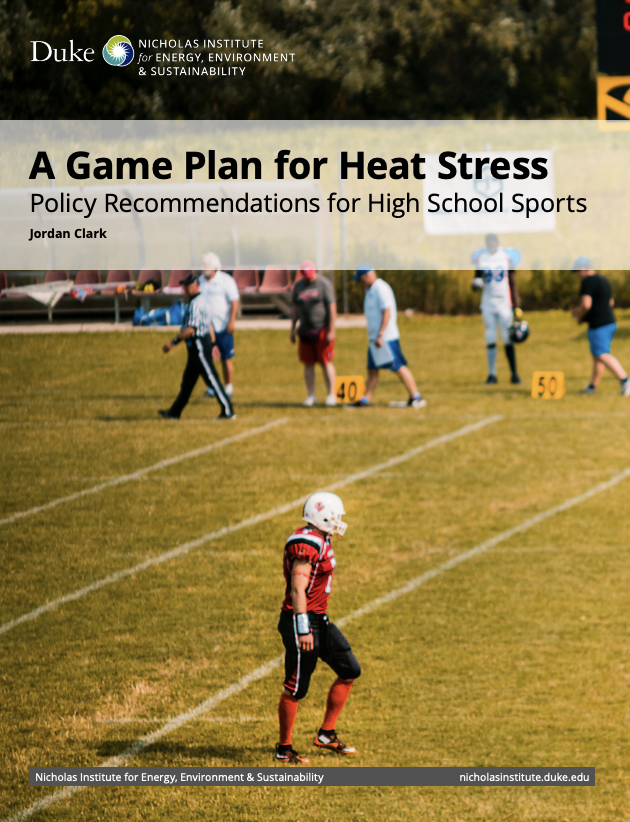 High school athletic associations (HSAAs) bear the responsibility of ensuring the health and safety of student-athletes. Exertional heat illness poses a significant risk, making this a task of increasing urgency in light of climate change and rising temperatures.
This policy brief, from Duke University's Heat Policy Innovation Hub, builds on prior research to offer recommendations to HSAAs as part of an ongoing commitment to safeguard student-athletes from heat-related illnesses:
Implement environmental heat monitoring using a scientific device for onsite measurement of a heat stress index appropriate for the local climate, with staff training to ensure measurement precision.
Develop activity modification guidelines contingent on heat stress levels.
Incorporate specific heat action protocols into existing venue-specific emergency action plans.
Institute universal application of heat policies across all sports and activities.
Support full implementation by pursuing funding opportunities for measurement equipment and establishing incentives for compliance among member schools.