Communicating Heat Risk: Experiences from C40's Cool Cities Network
Organization: C40
Year: 2021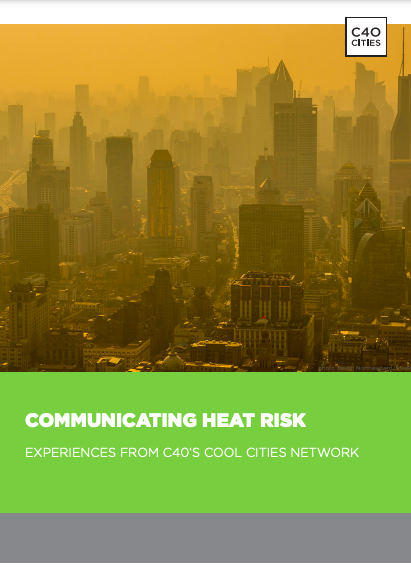 As the climate crisis deepens, extreme heat events are becoming more intense and frequent around the world. This has brought heat to the forefront of the conversations around climate change adaptation, and more and more city governments are concerned about the risks posed by extreme heat events. Effectively communicating heat risk – especially to the most vulnerable communities – is essential for limiting the impact on people and their health.
This report provides guidance on communication channels for reaching different heat-vulnerable groups, as well as city examples of heat communication best practices, and considerations for heat communication during the COVID-19 pandemic. The report is based on discussions between seven North American cities – Boston, Miami, New York City, Philadelphia, Phoenix, Toronto and Washington, DC – about best practices for communication responses to intense heat events.
The report recommends that cities:
Use existing channels and local messengers: Build strong relationships with local community groups and leaders who can help spread the message.
Diversify communication channels, with a focus on reaching the most vulnerable: Some common modes of communication tend not to reach the most vulnerable (for example, messaging on social media often misses elderly people). Choose locally-appropriate outreach channels to reach vulnerable groups.
Highlight environmental injustice: Collect data and showcase how heat is impacting populations in different areas differently. This helps make the case for cooling actions in high-risk areas.
Connect heat events with climate change: Demonstrate how rising temperatures and more heatwaves in your city are connected to greenhouse gas emissions.
Foster collaboration between communications professionals and technical heat/adaptation experts: Bring together both sets of expertise to create the most effective communications strategies.
Alongside the report, you can find a Home Cooling Tips messaging toolkit with materials that can help to raise awareness of the compounded risks of heat and COVID-19 in your city. The toolkit promotes easy, low-tech and low-cost measures residents can take to stay cool in their homes.