Keep children cool! Protect your child from extreme heat
Organization: Health Canada
Year: 2020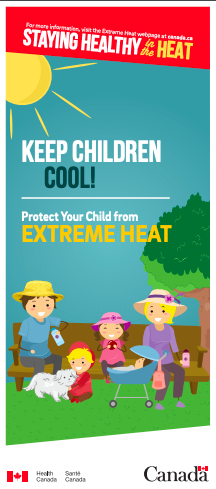 Extreme heat, and heat related illnesses, are especially dangerous for infants and young children.
Heat illnesses include heat stroke, heat exhaustion, heat fainting, heat edema (swelling of the hands, feet and ankles), heat rash (prickly heat) and heat cramps (muscle cramps). They are mainly caused by over-exposure to heat or over-exertion in the heat, and if not prevented, can lead to long-term health problems and even death.
Children most at risk include those with breathing difficulties (asthma), heart conditions, kidney problems, mental and physical disabilities, developmental disorders, diarrhea, and those who take certain medications. Consult with your family doctor or pharmacist to find out if your child's medication increases their risk of heat related illnesses.