Protecting Californians From Extreme Heat: A State Action Plan to Build Community Resilience
Organization: State of California
Year: 2022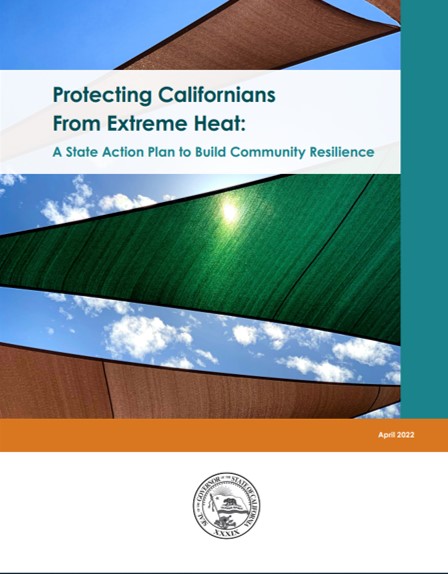 Actions in the plan are organized into four tracks –
(A) Build Public Awareness and Notification;
(B) Strengthen Community Services and Response;
(C) Increase Resilience of Our Built Environment; and
(D) Utilize Nature-Based Solutions.
These tracks include established and recommended state actions to address extreme heat. The Administration is committed to continued scoping and exploration of these actions. Areas of near-term focus include:
Implement a statewide public health monitoring system to identify heat illness events early, monitor trends, and track illnesses to intervene and prevent further harm.
Accelerate readiness and protection of communities most impacted by extreme heat, including through cooling schools and homes, supporting
community resilience centers, and expanding nature-based solutions.
Protect vulnerable populations through codes, standards, and regulations.
Expand economic opportunity and build a climate smart workforce that can operate under and address extreme heat.
Increase public awareness to reduce risks posed by extreme heat.
Protect natural and working lands, ecosystems, and biodiversity from the impacts of extreme heat.